To Own a Dragon: Reflections on Growing Up Without a Father (10 BOOKS)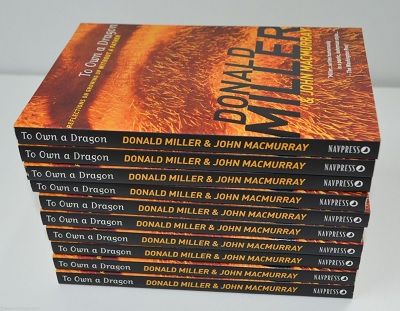 To Own a Dragon: Reflections on Growing Up Without a Father (10 BOOKS)
To Own a Dragon:
Reflections on Growing Up Without a Father
(10 BOOKS)
....GREAT TO USE IN PRISON MINISTRY....

A universal word imbued with deeply personal meaning. For some, it defines security. Encouragement. Identity. For others, "Dad" is the stuff of urban legend, as mythic in stature as any dragon. Because while everyone has a father, not everyone has a dad.
CHAPTER TITLES:
1.THE REPLACEMENTS
2 OUR PROBLEM
3. THE MENTOR
4.BELONGING
5.SPIRITUALITY
6. AUTHORITY
7. MANHOOD
8.MAKING DECISIONS.
9. GIRLS
10.SEX
11.INTEGRITY
12.WORK ETHIC
13.EDUCATION
14.SPIRITUALITY

With his trademark humor and gut-level honesty, Donald Miller reveals his personal journey of redemption through the American crisis of fatherlessness.
It seems we humans carry the weight of our dad's shortcomings. I know—mine left when I was nine. Don writes with candid humor and unembarrassed honesty. He rips himself open. This book sings to those who have felt responsible for their father's demons. The truth is, our real Father is perfect in every way, especially in his love for us. Thanks Don and John. This book spoke to a place deep inside of me."
—Jeff Foxworthy
DONALD MILLER
is the founding director of The Belmont Foundation—an organization assisting single mothers and children growing up without fathers. He is author of the bestselling Blue Like Jazz, Searching for God Knows What, and Through Painted Deserts. He travels extensively around North America as a popular conference and college speaker and lives in Portland, Oregon.
Reviews