THE MESSAGE BIBLE IN PAPERBACK BY EUGENE PETERSON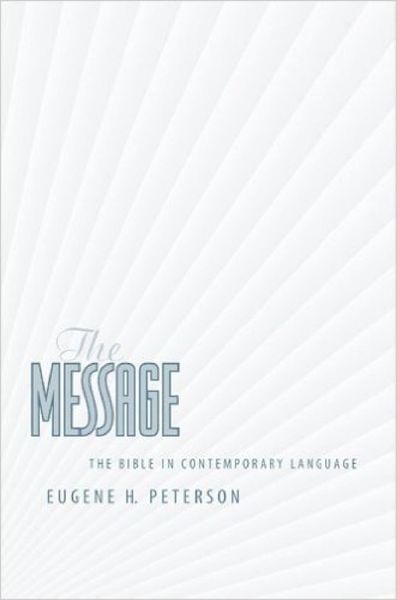 THE MESSAGE BIBLE IN PAPERBACK BY EUGENE PETERSON
This personal-sized edition of The Message brings to life the original biblical text. It allows you to experience firsthand the same relevance and directness that motivated its original readers to change the course of history. Features include an exclusive verse-numbering system, as well as study helps and charts.
Readers who have either found the Bible to be an intimidating proposition or who are so familiar with it that the words have lost their meaning will discover that Eugene Peterson's The Message: The Bible in Contemporary Language is a welcome way to read and reread one of the best-loved books of all time. It's directly translated from the Greek and Hebrew texts and is intentionally designed to be a reading Bible rather than a study Bible. Each of the 66 books has an introduction by Peterson, and there are no verse numbers to interrupt the flow of the passages.
The vibrant flavor of the text is evident from the opening verses of the book of Genesis: "First this: God created the Heavens and Earth--all you see; all you don't see. Earth was a soup of nothingness, a bottomless emptiness, an inky blackness."
There's renewed vigor in some of Jesus' most well-known words of the New Testament in John 3: "This is how much God loved the world: He gave his Son, his one and only son. And this is why: so that no one need be destroyed; by believing in him, anyone can have a whole and lasting life. God didn't go to all the trouble of sending his Son merely to point an accusing finger, telling the world how bad it was. He came to help, to put the world right again."
Whether it's the poetry of the Psalms, the thundering tirades of the Old Testament prophets, or the ageless words of Jesus, Peterson breaths new life into timeless passages in this fresh-voiced paraphrase.
Reviews