THE BIBLE ALMANAC FOR KIDS-FUN ACTIVITES - AGES 6-13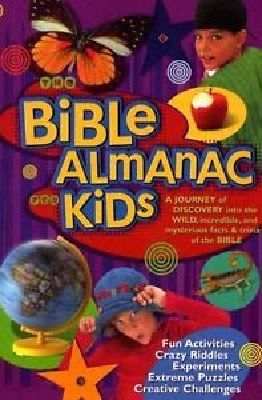 THE BIBLE ALMANAC FOR KIDS-FUN ACTIVITES - AGES 6-13
THE BIBLE ALMANAC FOR KIDS
AGES 6-13

The Bible Almanac for Kids
FUN ACTIVITIES,CRAZY RIDDLES,EXPERIMENTS,EXTREME PUZZLES AND CREATIVE CHALLENGES.

A Journey of Discovery into the Wild, Incredible, and Mysterious Facts & Trivia of the Bible!
Everything a curious kid could want to know about the Bible from A-Z!

Introducing a brand new annual almanac, filled with bright, vibrant colors; contemporary illustrations and designs; and all the features kids—and parents—love in a reference book—

•Puzzles, quizzes, riddles, and other fun and wacky activities
•Amazing facts and trivia, along with creative challenges
•Top 10 Lists—both humorous and informative
•Easy-to-find alphabetical system
•Vocabulary that is right on target for 6 to 13 year olds; plus simple pronunciation guides and definitions for new an unfamiliar words
•Tons of information made accessible in short, high energy layouts
•And tons more, including a correlated website with updates, extra resource, and bonus materials!

From angels to zebras (and other interesting animals of the Bible), The Bible Almanac for Kids will be a favorite resource for kids, parents, teachers, and others.

The Bible Almanac for Kids was written and compiled by Terry Hall. Terry is a graduate of Dallas Theological Semi and has been a long-time professor at Moody Bible in Chicago, Illinois. He has authored numerous best-selling books in Christian education and is currently president of Media Ministries in Wheaton, Illinois where he resides with his wife, Karen.
Reviews