NKJV Gaither Homecoming Bible, Hardcover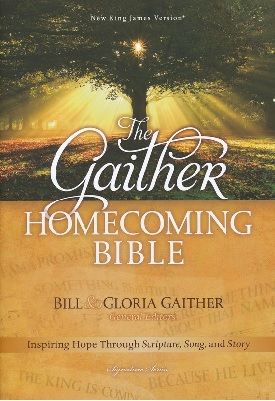 NKJV Gaither Homecoming Bible, Hardcover
NKJV Gaither Homecoming Bible

Hardcover
Product Description
The Gaither Homecoming Bible makes the Bible come alive for those seeking truth in the twenty-first century—even for those who think they already know it.
For years, Bill and Gloria Gaither have reached millions of people across generations with the Good News of Jesus Christ. Their music of joy, thanksgiving, and praise ushers people into the presence of God so that He can do His wondrous work in their lives. This beautiful Bible featuring the New King James Version (NKJV) is one that you will treasure for years to come.
Features
Inspirational and insightful Scripture devotions by the Gaithers and other favorite Homecoming artists
Articles on beloved hymns, gospel songs, and Gaither classics and the inspiration behind them
Original poetry by Gloria Gaither to enlighten and inspire
Quotes by greats of the faith, reflecting on the importance of music in the life of believers
Presentation page
Ribbon marker
10-point text size
9.50" x 6.75" x 1.75"
Product Information
Format:
Hardcover
Number of Pages:
1676
Vendor:
Thomas Nelson
Publication Date:
2012
Dimensions:
9.50 X 6.75 X 1.75 (inches)
ISBN:
1418549924
ISBN-13:
9781418549923
Availability:
In Stock
Text Color:
Black Letter
Text Size:
10 Point
Note Size:
10 Point
Ribbon Marker:
Yes
Spine:
Sewn
Reviews