Look and Find Bible- Hardcover-5 BOOKS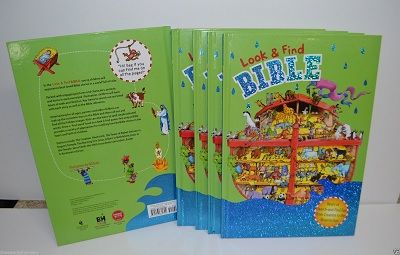 Look and Find Bible- Hardcover-5 BOOKS
Look and Find Bible- Hardcover-5 BOOKS
AGES 4-8

Kids of all ages will delight in exploring God's word and world as they seek out key characters and images on the pages of this full color look-and-learn storybook.

Enter the world of creating and search for God's creatures in the sky, on land, and in the sea. Can you find the lion? Each look-and-find page includes the scripture reference to take children from the pages of the storybook to the pages of the Bible where each miraculous moment occurred.

Look & Find stories include The Creation, The Tower of Babel, Samson in the Temple, The Burning Fire, Jesus in Bethlehem, Jesus in the Temple, Jesus Feeds 5000, The Entry into Jerusalem, and the Easter and Ascension of Jesus. This interactive tool teaches children ages 4 to 8 about the Bible. Exciting illustrations offers snapshots of Bible life and times in a visual format for a younger audience. The whole family can enjoy this engaging seek and find book. Accompanying Scripture references help parents dig deeper with their child.
Product Details
Age Range: 4 - 8 years

Grade Level: Preschool - 3

Series: Look and Find

Hardcover: 24 pages
Publisher: B&H Kids (February 1, 2014)
Language: English
ISBN-10: 1433682621
ISBN-13: 978-1433682629
Product Dimensions: 8.7 x 0.3 x 12.5 inches
Shipping Weight: 14.1 ounces
Reviews