Look and Find Bible- Hardcover-5 BOOKS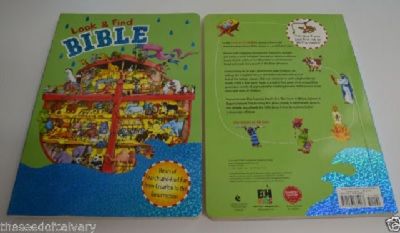 Look and Find Bible- Hardcover-5 BOOKS
Look and Find Bible- Hardcover-5 BOOKS
AGES 6-10
IN THE "LOOK AND FIND BIBLE"
young children will experience best-loved Bible stories in a world of color.

Packed with engaging pictures and characters, animals and items in each oversized illustration, children will hours of seek and find fun! Key items to search out are listed with each story as well as the Bible reference.

Stories include: The Creation, Noah's Ark, The Tower of Babel, Samson in the Temple, The Burning Fire, Jesus is Born in Bethlehem, Jesus in the Temple, Jesus Feeds the 5,000, Easter and Ascension of Jesus.

WE HAVE PERSONALLY APPROVED OF THESE BOOKS!
THEY ARE RATED 5 STARS OUT OF 5 STARS!

It takes anyone time to look and find certain items while learning God's animals, His children and many other things.

You and your child will be thrilled with this book!


Reviews