LADY BUG VARIETY GIFT PACK (9 ITEMS) (LAEDEE BUGG)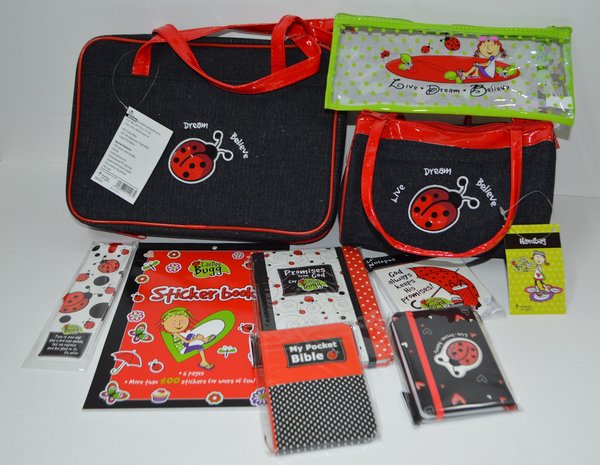 LADY BUG VARIETY GIFT PACK (9 ITEMS) (LAEDEE BUGG)
LADY BUG VARIETY GIFT PACK (9 ITEMS)

(LAEDEE BUGG)
1. PURSE-STYLE BIBLE COVER

This cute Black Denim and Red Vinyl LaeDee Bugg Bible / Book Cover will delight your little girl. There is a vinyl "LaeDee Bugg" applique and embroidered text. Front and back slip pockets let her carry all that she needs. Inside, she'll have a zipped mesh pocket and a pen loop
2. CHILDREN'S PURSE-STYLE TOTE BAG


This little tote is made of black denim with shiny red vinyl handles and trim.

There is a vinyl "LaeDee Bugg" applique and embroidered text. A zipper keeps your little girl's treasures secure.
Denim and Vinyl
Embroidered Text
3. STICKER BOOK

Comes with a booklet full of fun stickers for all to enjoy.

4. MY POCKET BIBLE

Cute book for verses

5. PENCIL CASE

Able to hold several pencils and pens

6. PACKAGE BOOKMARKS

Comes with 6 precious book marks all lady bugs
"This is the Day" Bookmark - Psalm 118:24
7. PROMISES FROM GOD BOOKLET

Promises to remember

8. RED UMBRELLA NOTEPAD

Be sure to keep all you notes here

9. LAEDEE BUGG NOTEBOOK

More room to write down those important thoughts
Reviews