Intimacy Ignited: Conversations Couple to Couple: Fire Up Your Sex Life with the Song of Solomon Hardcover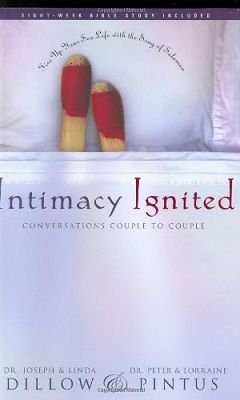 Intimacy Ignited: Conversations Couple to Couple: Fire Up Your Sex Life with the Song of Solomon Hardcover
Intimacy Ignited: Conversations Couple to Couple:
Fire Up Your Sex Life with the Song of Solomon

Hardcover
Looking for more romance in your marriage? By studying the Song of Solomon, you'll get a timeless look at God's design for love in marriage.

This verse-by-verse Bible study of the Song of Solomon can strengthen your relationship with your husband or wife. Includes discussion questions.
From the Inside Flap
Intimacy and sex should flow froman attitude of true selflessness. A verse-by-verse look at the Song of Solomon. Intimacy Ignited shows couples how to fire up and maintain the flames of a passionate marriage. Both you and your spouse will:
Discover the freedom, holiness, and beauty of sex in marriage
Learn how to become a servant lover instead of a selfish lover
Explore creative ideas for lovemaking based upon the Bible
Sex plays a vital role in every healthy marriage, yet there's more to intimacy than just sex. If you marriage doesn't have the passion it once did, learn why romance and intimacy is all about being a servant lover.

Product Details
Hardcover: 320 pages
Publisher: NavPress; Book Club (BCE/BOMC) edition (September 29, 2004)
Language: English
ISBN-10: 1576836401
ISBN-13: 978-1576836408
Product Dimensions: 1.5 x 6.2 x 9.2 inches
Shipping Weight: 1.3 pounds
Reviews